State of Workplace Learning and Development - 2018
Changing Priorities, Emerging Trends
Insights from 1500+ L&D experts about current trends and challenges in this domain
TOP TRENDS IN WORKPLACE LEARNING AND DEVELOPMENT
1. Organizations recognize Talent Development as Important.
More Than

80%

of organizations have some sort of structured L&D.

38%

of L&D experts say that 'Improving Employee Performance' is the prime focus of their programs in 2018.
2. Re-skilling the workforce and preparing for the future.
Responses to the survey indicate that the need for re-skilling will be required majorly in

large-sized

organizations.
3. Proving value of learning to learner isn't as easy as it looks.
Getting employees to attend trainings is highly challenging as learner of today is more demanding and looks for varied options of learning.
4. Learning is Evolving (Quickly) and so must the L&D Budgets.
More than

50%

organizations have increased their L&D budgets in 2018 compared to 2017. However, L&D spends differ within departments and employee levels.
5. 'Data-backed Learning Path' is a hit amongst L&D experts.
In Low Attrition Organizations,

72%

of L&D Teams find 'Pre-& Post Training Assessment' the most effective way to measure the ROI.
38%
OF L&D EXPERTS SAY THAT

'IMPROVING EMPLOYEE PERFORMANCE'

IS THE PRIME FOCUS OF THEIR L&D PROGRAMS

IN 2018.

Employee engagement

Improving
employee
performance

Re-skilling the workforce

Leadership
development

Building overall
learning culture
Leadership:23%
Engagement:4%
Improvement:38%
Re-skilling:26%
Learning:9%

What is the prime focus of L&D teams in 2018?
The success of any organization depends on its ability to address rapidly evolving business scenarios. To achieve this, organizations must upgrade their employees rapidly and regularly through extensive learning and development initiatives.
CHALLENGES OF L&D DEPARTMENT
What are the Top challenges faced by your organization in L&D ?
Challenges of L&D Departments
1
Getting Employees to attend Training
2
Identifying Organizations's Training Needs
3
Measuring the ROI/Effectiveness of Programs

Employee
dosen't attend

Identifying
training needs

Measuring
the ROI

Budget
Constraints

Getting approval
from the management

Logistics
Budget-Contraints:18%
Logistics:9%
Not-Attended:29%
Training-needs:19%
ROI:18%
Approval:13%

L&D FUNCTION - NO MORE A COST-SINK
By what percentage has your L&D budget increased in 2018 compared to 2017 ?

0-10%

10-20%

20-30%
L&D Budgets:30%
L&D Budgets:6%
L&D Budgets:64%

*64% organizations have increased their L&D budgets by 0-10% compared to 2017. However, the Avg. increase in L&D budget in an organization has been 9%.
REPORTING VALUE OF L&D PROGRAMS TO THE INDIVIDUAL AND THE BUSINESS
of L&D experts find 'Assesment Technology' the most Effective way to evaluate the success of L&D Programs
Pre & Post Training Assessment
Employee Feedback / Satisfaction right after the program
Impact on KPI's of trained employees
Quizzes/Questions during the Training
Download This Complete Report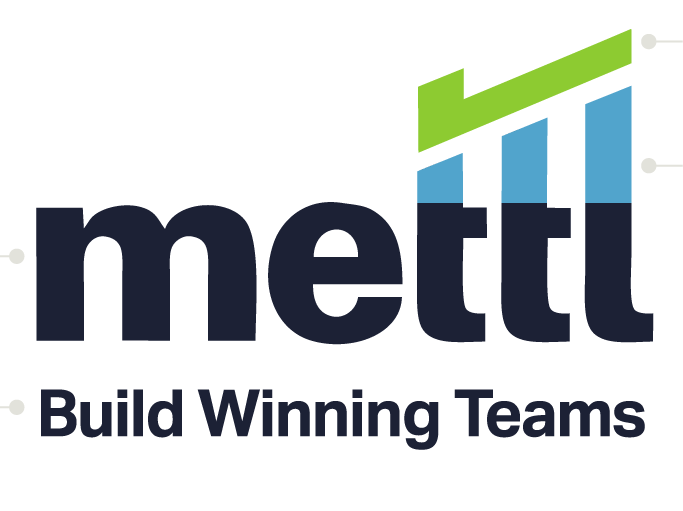 Mettl is one of the largest and fastest growing online talent measurement solutions provider globally, and has been at the forefront of online assessment technology since its inception in 2010. We enable organizations to build winning teams by taking credible people decision across two keys areas: Talent Acquisition and Development.
Have any ideas, questions or suggestions about this report?
Mettl online assessment © 2010- 2021