Mercer | Mettl gained detailed insights into the objective of the company's competency program. The team of subject matter experts then devised a customized assessment strategy to support the company's learning and development plan. The plan included:
Providing a digital assessment platform to evaluate the functional knowledge of employees.
Customizing high-quality assessment blueprints through Subject Matter Experts (SME) with over 10 years of experience.
Generating access-based reports customized for the company and integrating with its global LKM portal.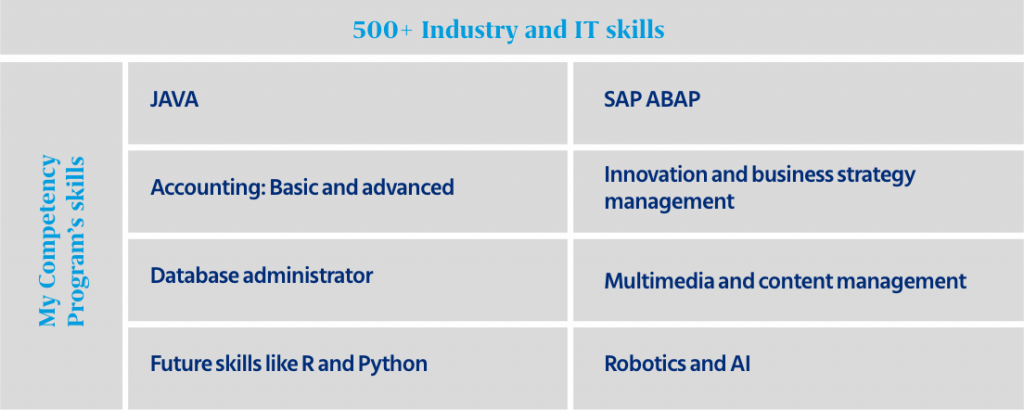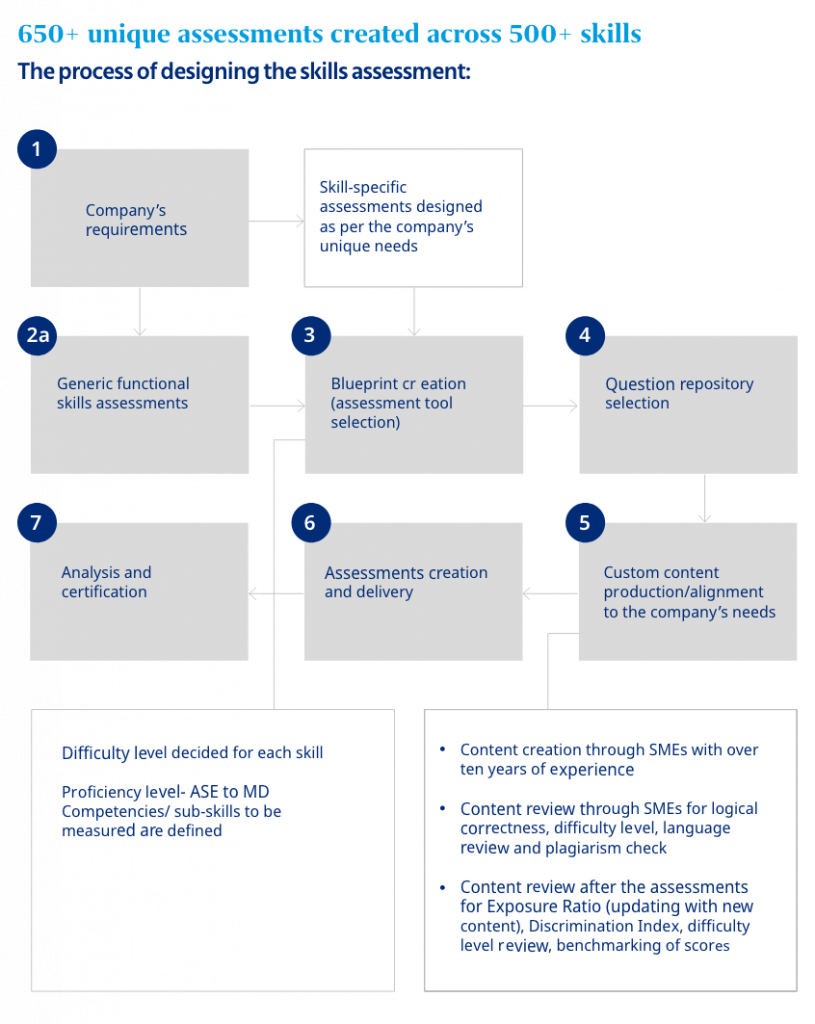 A holistic platform for technical assessments
After understanding the company's requirements, Mercer | Mettl equipped the company with a robust technical assessment platform that was a one-stop solution to all its assessment needs. The platform covered a wide range of core corporate functions, industries and IT skills, enabling the company to measure the skills of varied tech roles. The platform also offered evaluators to gauge technical competencies with customized technical skills tests created by a team of subject matter experts.
In addition to the mentioned features, Mercer | Mettl's technical assessment platform:
Understood the competency need, job role, industry and organization-specific context
Created assessment blueprints that list skills and subskills essential to cover each technical competency
Created competency-wise content from Mercer | Mettl's repository of questions
Designing assessments and reports through a combination of question types and customization requests
Easily integrated with its global LKM portal
Came with additional features like AI-based proctoring and authentication system
Click here to learn more about Mercer | Mettl's Technical Assessment platform.
Creating skill-specific assessments
After gaining insights into the skill requirement, Mercer | Mettl's team of subject matter experts designed skill-specific assessments considering the role levels. These role-specific tech assessments combined knowledge-based and application-based problems that needed to be solved in real-time.
Mercer | Mettl offered a two-layered innovative solution, including MCQ-based questions combined with advanced coding problems. These were to be solved using Mercer | Mettl's stellar Back-end Simulator (Codelysis).
Multiple choice question-based assessments evaluated the domain knowledge
Mercer | Mettl's coding assessment platform offered an extensive programming test library, replete with 100,000+ technical questions for 300+ skills, enabling the brand to devise impactful screening assessments.
A user-friendly and well-defined test interface helped the evaluators set up the employees' exams using multiple question types instantaneously.
Blueprint creation and a large question repository helped build customized assessments as per the company's needs.
The diversity of the questions helped the company gauge the employees' technical concepts in every dimension, besides their future thinking.
The score-based reports determined the level of domain understanding of the employees.
Mercer | Mettl's high-tech coding simulators assessed the application-based skills of the employees
Mercer | Mettl's Coding Simulator enabled the company to test the real-world coding skills of the employees.
Click here to learn about Mercer | Mettl Simulator Codelysis.
Analysis and certification
Fully auto-graded and detailed reports of the assessments offered insights into the employees' existing skills levels
The company evaluated employees in detail, using the custom scoring logic for both assessment and simulation tests.
The auto-graded assessments instantaneously evaluated employees on several parameters, such as code correctness, difficulty level, time and space complexities and other vital parameters.
Content review through SMEs for logical correctness, language review and plagiarism check.
The accurate test reports offered in-depth analytics of code and programming standards, enabling the decision-makers to predict the employees' real-life skills at scale.
A thorough evaluation of the coding potential was bias-free and backed the assessor's decisions with optimum reliability and validity of coders' actual potential.
Combined group reports with benchmark scores and provided skill/level insights based on data analytics.
Provided certificates based on pre-set performance criteria.
Integrated with proctoring and authentication features to maintain the credibility of assessments
A remarkable set of online remote proctoring features added to the value and credibility of the online coding and MCQ-based assessments. A stellar candidate authentication system, followed by AI-based proctoring and easy access to recording and reviewing the assessments, ensured credible tests.
Mercer | Mettl's facial recognition technology and a 3-point candidate authentication system ensured the right employee took the assessment.
Mercer | Mettl's Secure Exam Browser sanitized the environment by disabling unauthorized browsers, tabs, search engines, ports, etc.
Mercer | Mettl's AI-powered suite of proctoring tools ensured maximum cheating prevention, using record and review proctoring on its coding assessment platform.