High Potential Definition
High Potentials sind Teil des Top-Talente Pools in jeder Organisation. High Potentials verfügen über einen höheren Intellekt, Antrieb und die Fähigkeit kontinuierlich zu lernen, zu wachsen und sich weiterzuentwickeln, um zukünftig umfangreichere und komplexere Arbeitsanforderungen und Verantwortlichkeiten zu bewältigen. High Potentials haben zudem eine höhere Chance in Zukunft eine erfolgreiche Führungskraft zu werden. In unserer Studie haben wir vier zentrale und differenzierende Faktoren identifiziert, die High-Potential-Mitarbeiter definieren: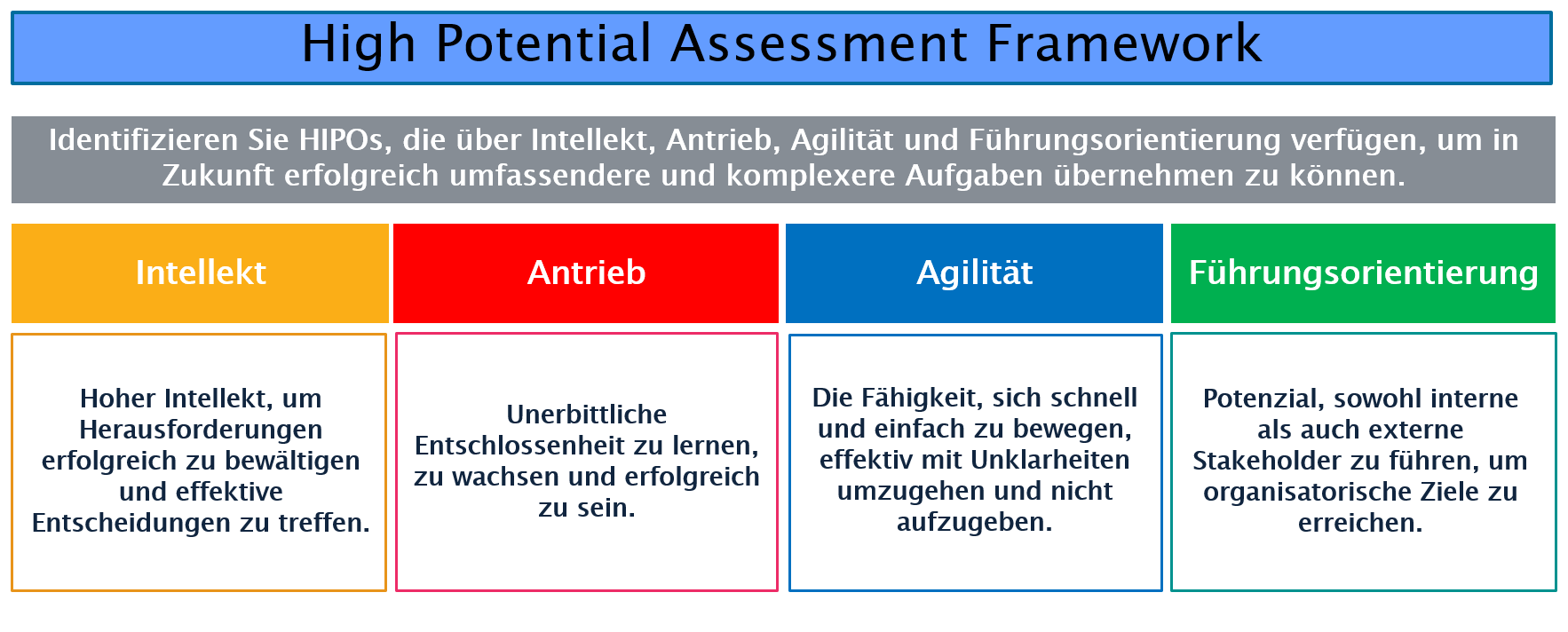 Dieses Assessment unterstützt Organisationen bei der Identifizierung ihrer High Potentials, die für die Besetzung kritischer Positionen vorgesehen werden können. Der Ergebnisbericht fasst die Stärken und Entwicklungsbereiche für jeden Teilnehmenden zusammen, um die Effektivität in der derzeitigen Rollen zu stärken und sie auf ihre zukünftigen Karrierechancen vorzubereiten.
Verwenden Sie diesen Test, um:
Interne Talente mit hohem Potenzial zu identifizieren und fördern
Interne Talentpipelines zu stärken und kritische Positionen zu besetzen
Schlüsselprofile, für die der Test nützlich ist:
Rollen auf der mittleren Führungsebene
Einsteigerrollen im Management
Test Details:
| | |
| --- | --- |
| Anzahl der Abschnitte | 5 |
| Anzahl der Fragen | 219 |
| Testdauer | 105 Minuten |
| Testsprache | German |
HINWEIS: Falls erforderlich, kann der Test auch in anderen Sprachen durchgeführt werden. Bitte kontaktieren Sie uns in diesen Fällen unter contact@mettl.com.
Test Beschreibung
Das Mettl High Potential Assessment besteht aus einer Reihe von psychometrischen Instrumenten, darunter der Mettl Personality Map, der Mettl Test für Abstraktes Denken und der Mettl Test für Kritisches Denken.
Der Mettl Personality Map ist ein evidenzbasierter Persönlichkeitsfragebogen, der eine detaillierte Messung von 28 Persönlichkeitsmerkmalen und Verhaltenstendenzen beinhaltet, die in vier Faktoren unterteilt sind. Diese 28 Merkmale decken verschiedene Facetten der Persönlichkeit ab und werden den unternehmens- oder stellenspezifischen Anforderungs- oder Kompetenzmodellen zugeordnet, um eine optimale Prognose für den beruflichen Erfolg zu erhalten.
Der Mettl Test für Abstraktes Denken ist ein non-verbales Assessment, das die Fähigkeit einer Person misst, aus mehrdeutigen Informationen Schlüsse zu ziehen, neue Informationen zu verarbeiten und neuartige Probleme zu lösen. Der Test ist frei von jeglicher Form kultureller Voreingenommenheit und hängt nicht von Sprachkenntnissen ab. Der Mettl Test für Abstraktes Denken misst induktives (und nicht deduktives) Denken. Das heißt, er verlangt von den Teilnehmenden, nach Mustern in Informationen zu suchen und diese Muster dann auf eine neue Stelle in einer Sequenz zu verallgemeinern.
Der Mettl Test für Kritisches Denken misst das kritische Denkvermögen der Teilnehmenden. Dieser Test erfordert die Anwendung von analytischem Denkvermögen in einem verbalen Kontext. Dieser Test wird bei der Einstellung für kritische Positionen in verschiedenen Branchen und Ebenen eingesetzt, von einzelnen Mitarbeitenden bis hin zu Positionen im mittleren und höheren Management. Der Test ist frei von kulturellen Vorurteilen und nachteiligen Auswirkungen auf eine bestimmte demografische Gruppe.
Note You will be charged only at step 3. i.e. only when candidate start the test.